Hééé oui… Un nouveau Blog pour la nouvelle année, juste pour vous !! J'espère que vous vous y retrouverez et vous y sentirez comme chez vous !
Vous pouvez à nouveau poster des commentaires
, alors surtout n'hésitez pas !!! Cela me permet de voir quelles sont vos petites créatures préférées, car je vais tenter pour cette année de developper sur différents supports mes petits monstres. Sérigraphies, T-shirts, Culottes, Badges, Stickers, Calendrier, Jouets ?… Je verrai selon mes possiblités et mes finances, bien entendu, si vous avez des propositions sérieuses à me faire, n'hésitez pas !
Quoi qu'il en soit,
un recueil de la première année du "Diary" devrait sortir cette année
… Vous en saurez plus dés que j'aurai des informations fiables à vous transmettre.
Je suis heureux de commencer cette année en votre compagnie avec ce nouveau blog, participez-y, et vous me ferez le plus grand des plaisirs !
*Grograou*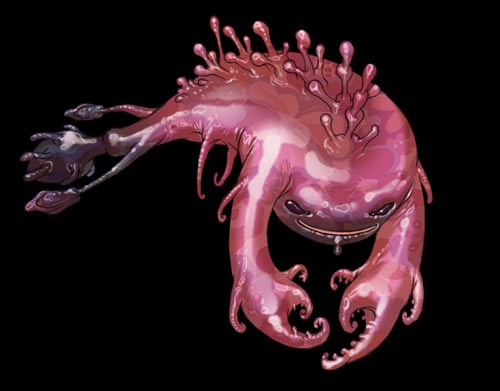 Happy new year & welcome to the new "Diary of Inhuman Species" blog !!!
Comments are working now !!! So, write and rate my little creatures ! It's very important to me to know which ones you like !
Otherwise, I have some extra projects around the Diary… Posters, T-shirts, Panties, Badges, Stickers, Calendars, Toys… I will try to make them real as soon as I can. It's depend of my opportunities, time, and the more crucial thing : money. If you have some ideas or propositions, feel free to write me !
Another big project, I'm working on a book about the first year of the "Diary" ! I will keep you updated as soon as I have more complete informations.
Once again, I'm really happy to begin this year with you ! Take part to the blog and I'll be contented !
*Grograou*
Recently: