Le livre vient de sortir il y a tout juste dix jours, et pour fêter ça voici un extrait de la première série, que j'espère nombreuses, de badges montés avec des dessins originaux – Oui, oui, des vrais hein !! Dessinés avec mes petites mains au feutre et signés !

Si jamais il vous prend la douce folie de vous procurer l'un des 12, vous le recevrez dans la petite boite spécialement faite pour l'occasion et rigoureusement tamponnée pour certifier son authenticité. Je changerai surement de dessin sur la boite pour la prochaine série. Alors ne rater pas la chance d'avoir l'un (ou plusieurs… héhéhé) de ces exemplaires uniques que je mettrai en vente mercredi prochain.
Simultanément, je mettrai aussi à la vente 22 autres modèles de badges couleurs de la série régulière dont vous pouvez voir aussi un extrait ci-dessous ! Je compléterai les envois avec des petits cadeaux, stickers, posters… C'est pas génial ça ?
-
Take a look to a part of my first unique serie of originals buttons !!
12 originals drawings (pencils and markers) monted on buttons and signed.
Each one comes with a special box specially designed for the serie one. I will change the drawing on it for the second batch. All of these buttons, Originals & Series (color picture) will be available for purchase on 21st wednesday and I will complete all orders with extra gifts, stickers or posters.
So don't miss the chance to get one of this unique and original pieces of the Diary of Inhuman Species !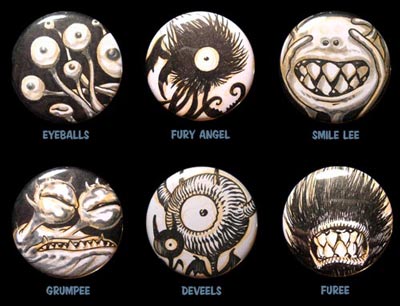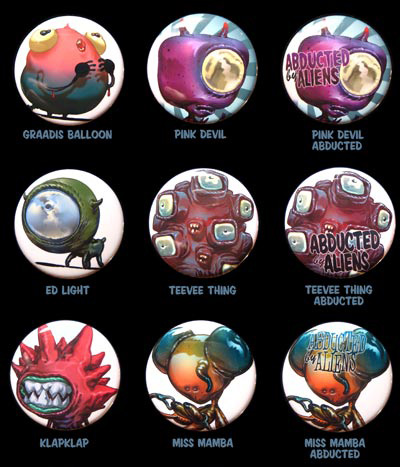 Recently: