Merci tout le monde !!!! Ça me fait très plaisir autant de réactions positives de votre part !!!
Pour le livre c'est le 8 janvier !! Ou bien en exclu à la conv Ankama de Lille le WE du 20/21 Décembre… J'y serai pour le dédicacer le samedi de 15h à 18h… et bien sur je n'hésiterai pas à vous tamponner tout ce que vous voulez (dans la limite de la décence) et à le certifier d'origine contrôlée !! Pour répondre à certaines questions : "Quand ? Où ? Combien ?" – Le livre ? Les stickers ? (Merci Stockman…) Pour les stickers, je vous en donnerai si je vous y croise et que vous m'êtes sympathiques !!
Le livre est déjà dispo en pré-commande sur Amazon… Pour les plus impatients. Quoiqu'il en soit,  je vous conseille si vous le pouvez, d'attendre qu'il soit sur le Shop d'Ankama, car il est fort possible qu'une surprise supplémentaire y soit proposée pour tout achat sur celui-ci… Mais c'est pas sur !!! hahahah… Je croise les doigts. Autrement je suis en train de préparer un petit lot, Badges/Stickers/Print en tirage limité que je mettrai en vente à un prix exhorbitant mais honnête sur ce site, avec les premiers badges du Diary !! Voici des petits protos fait avec l'aide précieuse de Hellofreaks et de ses doigts de fées !
Á suivre donc…
—–
Thanks everybody !!
Some short news to keep you updated. The official release of the book is the 8th of january, but you can right now pre-order it on amazon  (France and Canada) !!
Otherwise, I will do very soon a little package in limited edition with Stickers/Badges & Print. You can see attached a picture of my first badges prototypes !!  Thanks Hellofreaks again for your precious help !!
Be aware guys….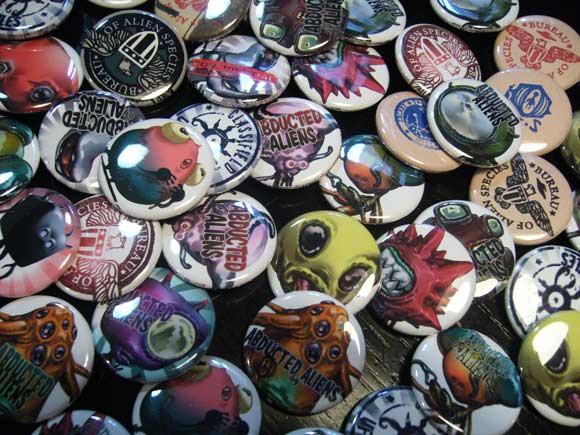 Recently: